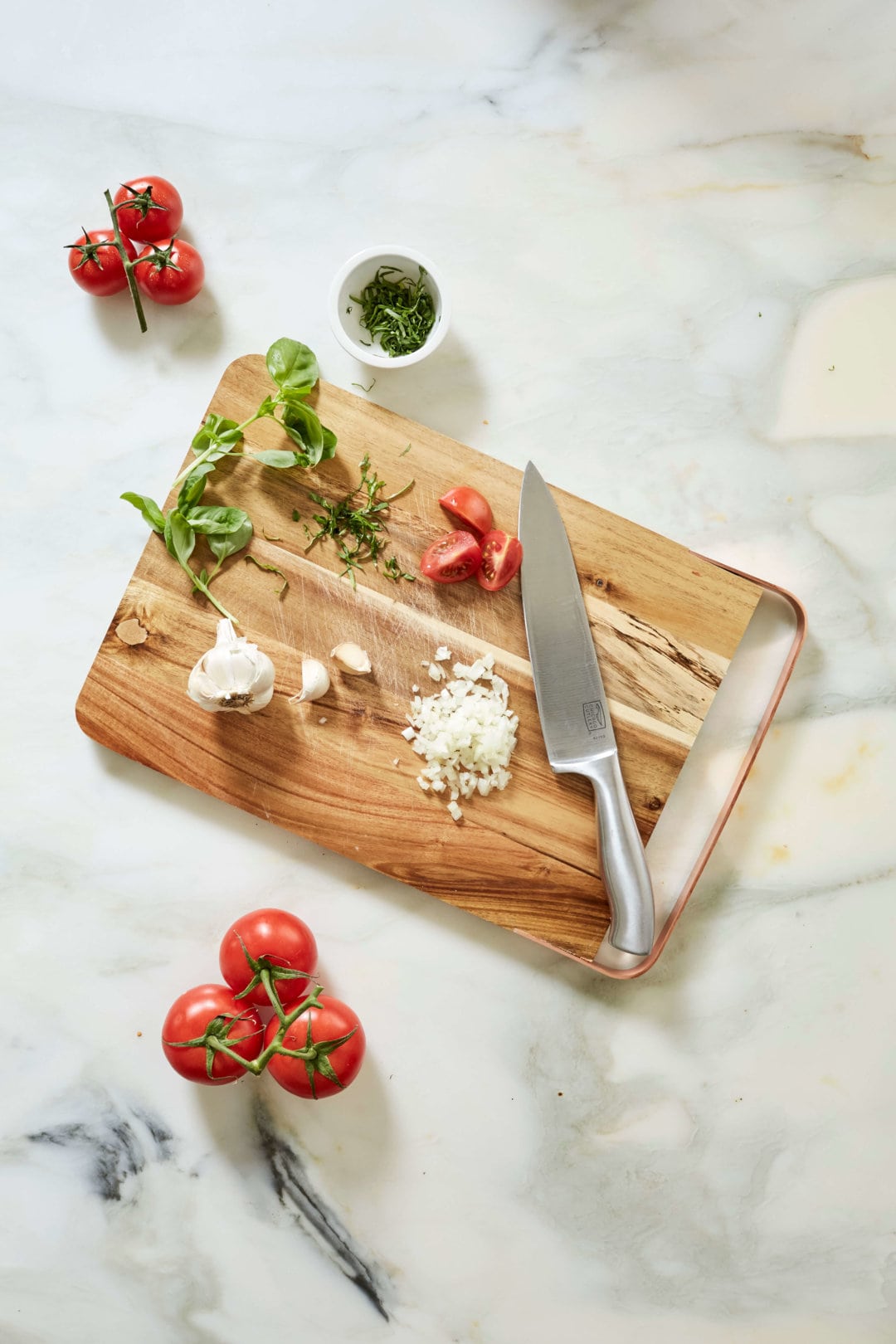 One-Pot Spicy Vodka Sauce with Burrata from Adrianna Adarme on Vimeo.
Whenever it gets cold and blustering outside, the number one thing that I always crave is a big bowl of warm pasta. It's like a hug in a bowl. This one is particularly special because it's made in one-pot (seriously, no needing to boil water!), using my favorite All-Clad pot that I got from Macy's.
For this post, I teamed up with Macy's Wedding Registry to show you a few of my favorite products. This All-Clad pot is so dreamy; it fits everything from arroz con pollo to my favorite big batch pasta. It's also pretty enough to go from stove to table, which is always a plus.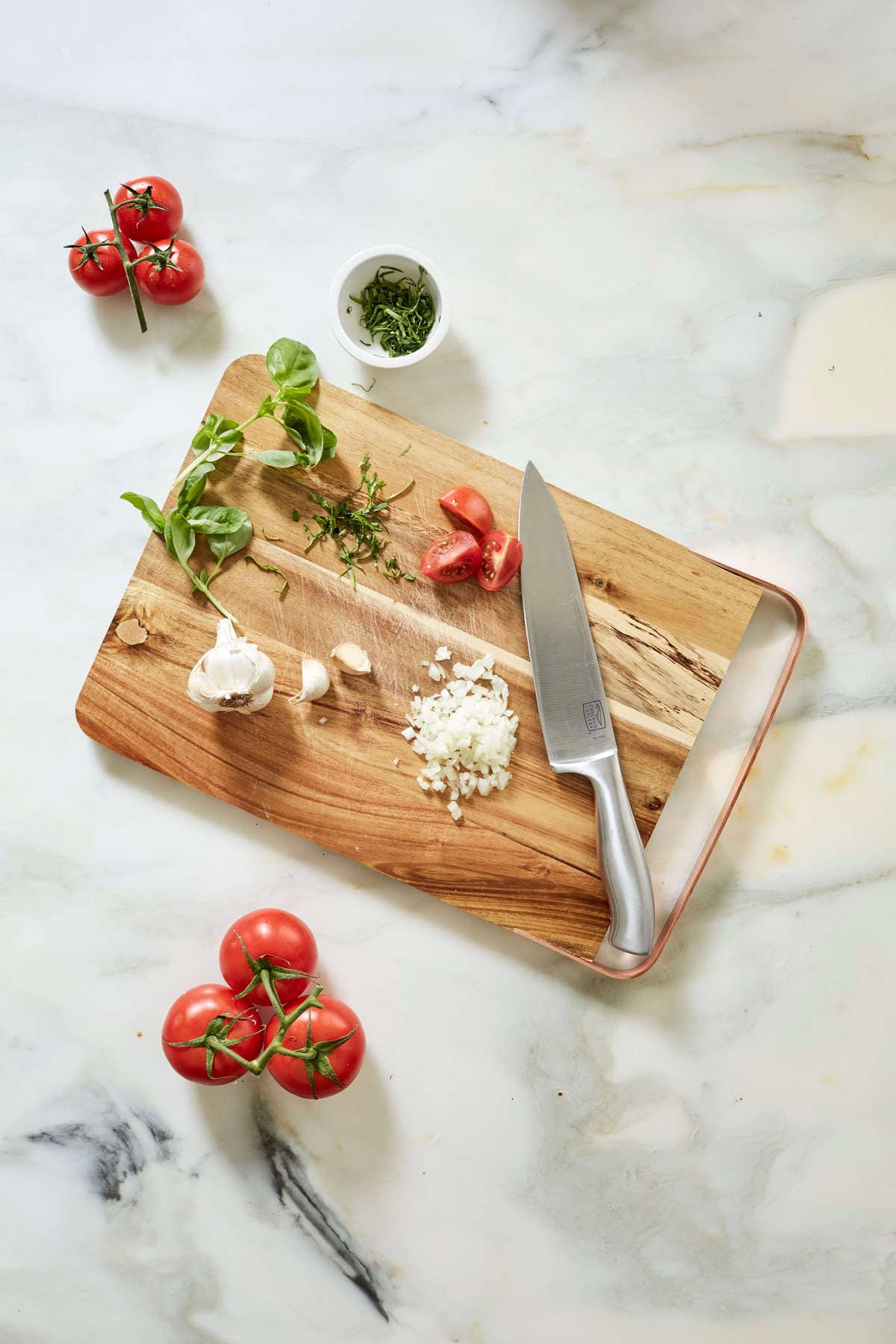 A few years ago, after being super skeptical of the one-pot pasta trend, I decided to make one. I was hesitant, but after a few successes, I was a changed woman. But, I have to say, whenever I begin making one, that doubt shows up. Will there be enough liquid? Will it be too liquid-y? Is boiling pasta really THAT difficult?
The answer is that it's not, but it's still really nice to throw everything in the pot and set a timer and then watch tv or fold laundry or simply look through your phone. It's casual!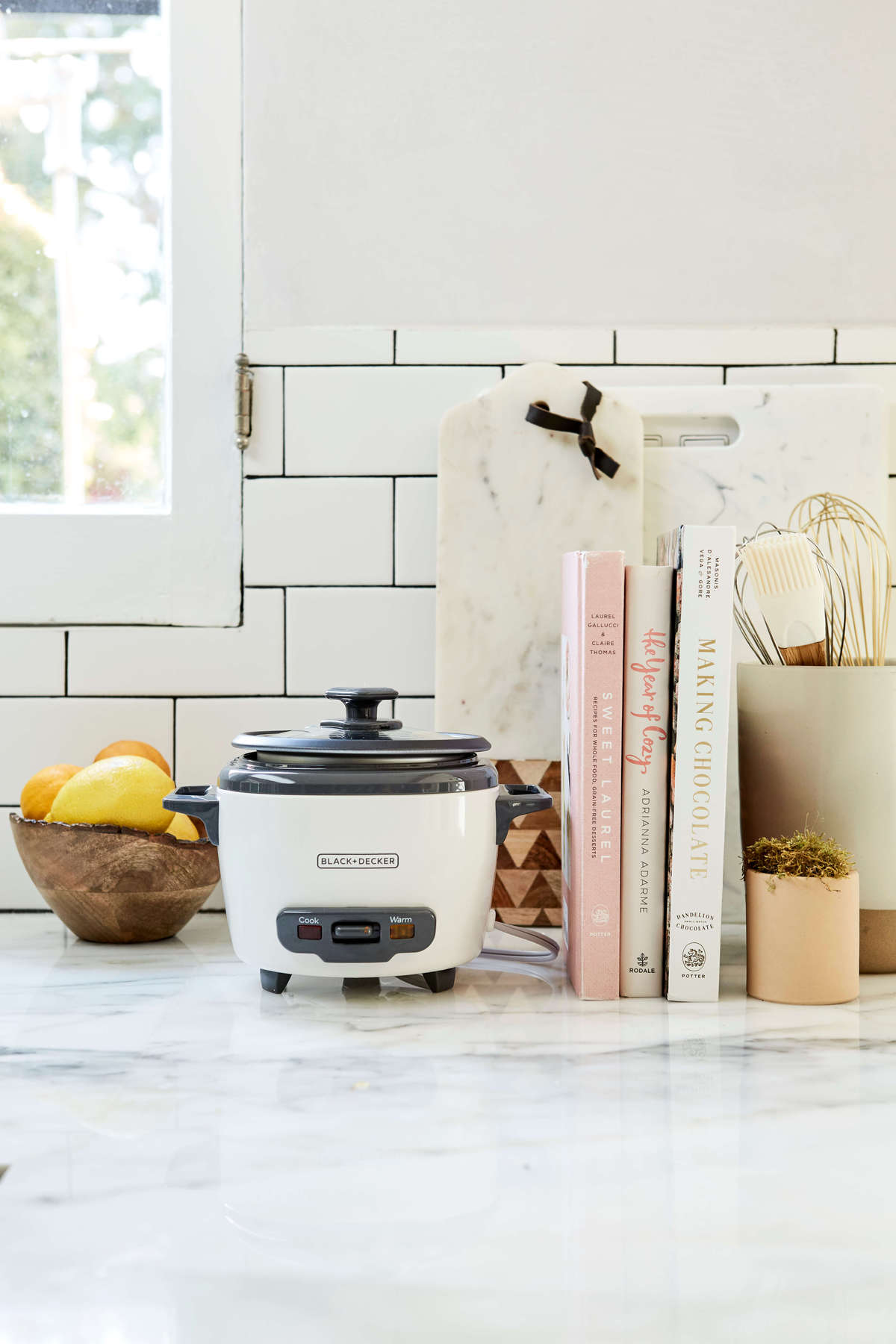 The recipe does have some very simple prep of chopping up onions, garlic and basil. I used this super sharp and lovely set of knives from Chicago Cutlery. After the onion and garlic are sautéed, the liquids are added (chicken broth and water). And then, I added the pasta from my kate spade new york All in Good Taste containers that are super cute.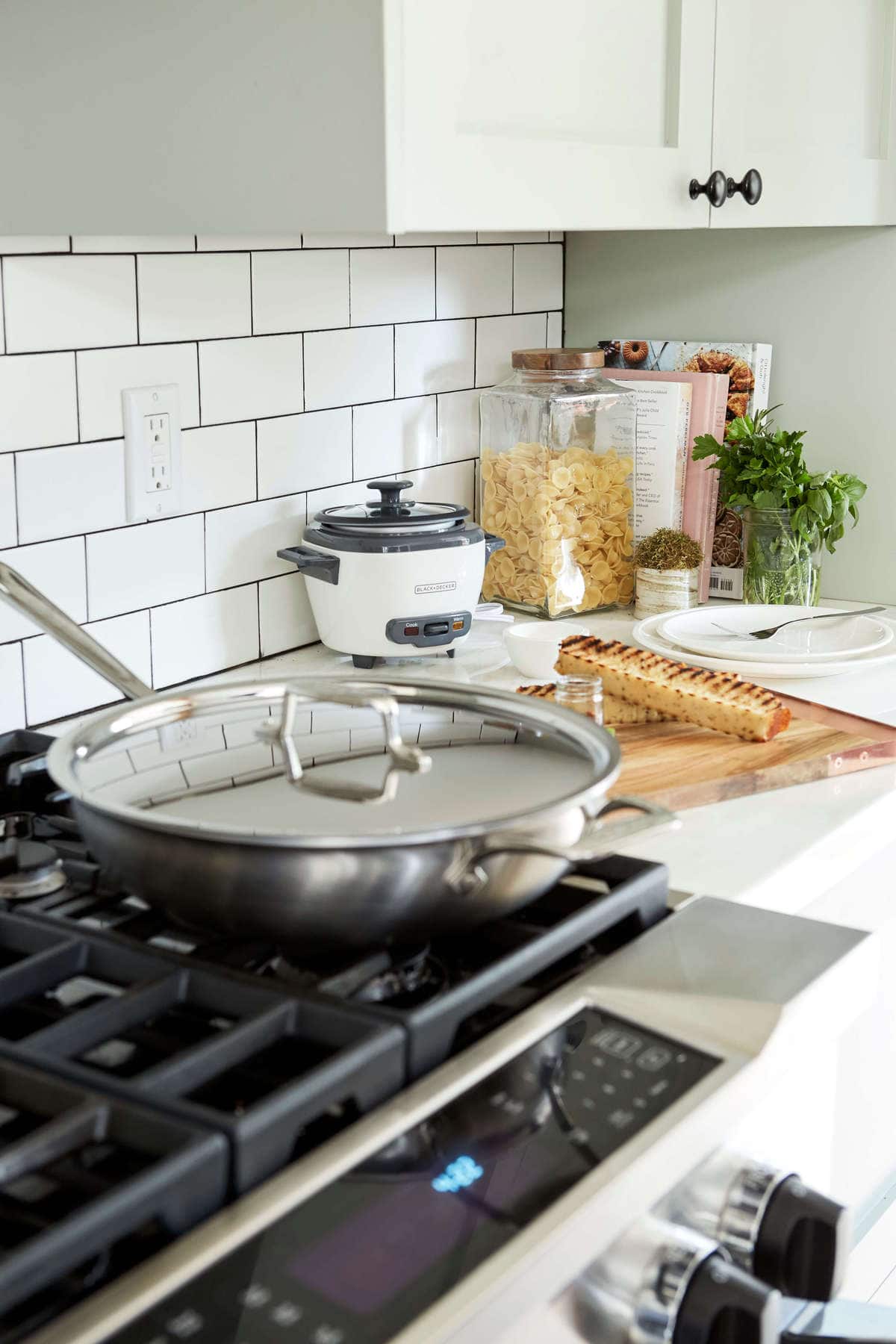 This dish is spicy but feel free to scale back the crushed red pepper flakes to make it on the more mild side. At the very end, the cream and butter are mixed in to thicken it in this really lovely way. I like to add the burrito burrata to the top just before serving. The contrast of very warm pasta to cold burrata is really lovely.
After dinner, I made a cappuccino with my favorite Nespresso machine and ate a few macarons. Day made!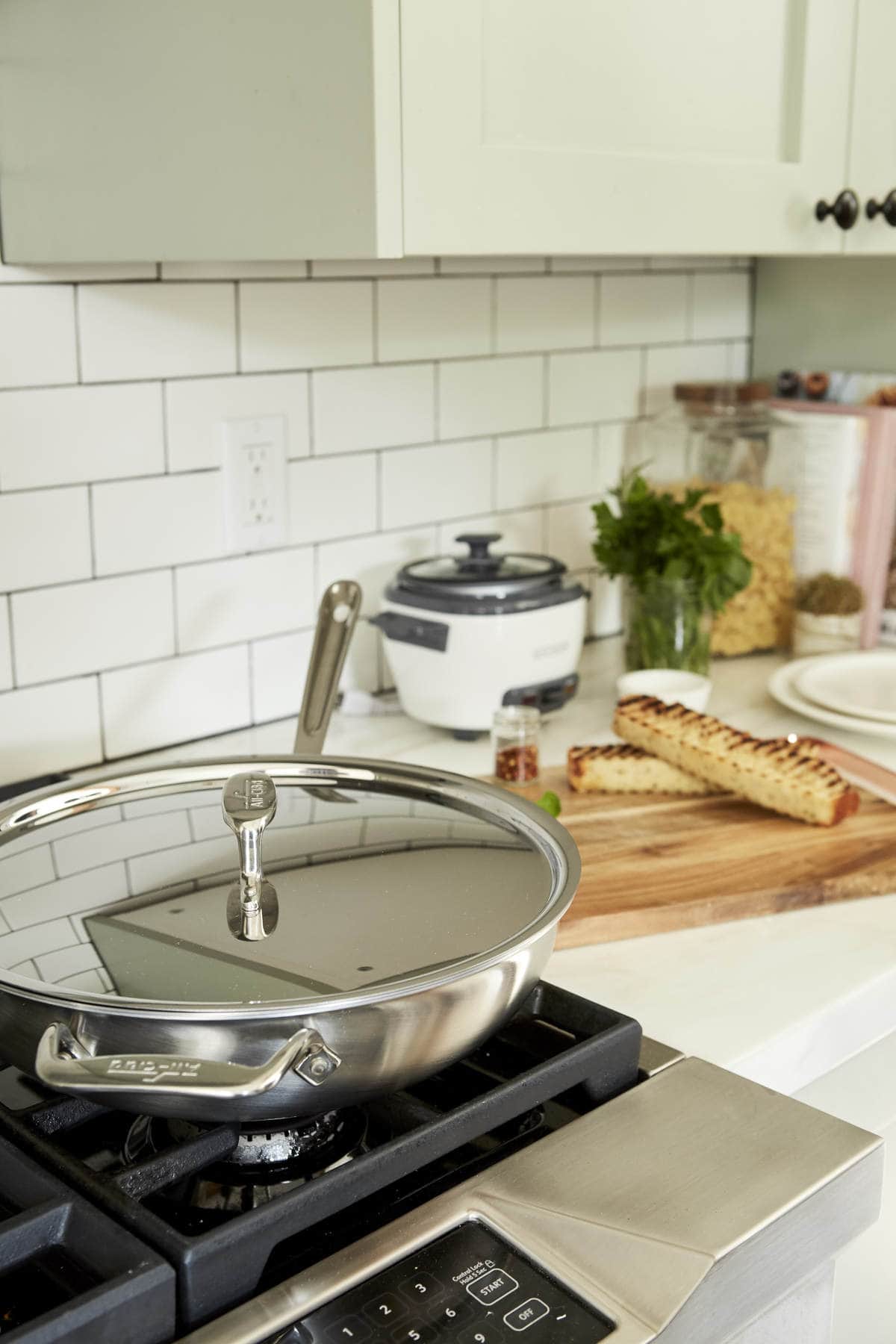 Ingredients
1 tablespoon olive oil 
2 garlic cloves, peeled and minced
1/2 yellow onion, peeled and minced
2 teaspoons salt 
1 teaspoon crushed red pepper, plus more as garnish
1 (28-ounce) can crushed tomatoes 
1 cup vodka 
1 1/2 cups chicken stock
3 cups water
1 pound cavatappi pasta (or pasta of choice)
1/4 cup heavy cream
4 ounces burrata cheese
A few basil leaves, as garnish
Directions
In a medium Dutch oven, set over medium heat, add the olive oil. When warm, add the garlic and onion; cook until softened and translucent, about 5 minutes. Pour in the tomatoes, vodka, salt and crushed red pepper. Give it a good stir and bring the mixture to a simmer; cook until the vodka cooks out, about 10 minutes. 
Mix in the chicken stock, water and pasta. Bring the liquid to a boil and then set your timer to 7 minutes, stirring it every so often. 
At the 7-minute mark, taste the pasta. If it needs a bit more time, set a timer for a minute or so. Then turn the heat off. Stir in the heavy cream and allow the pasta to stand for a minute. This allows the pasta to soak up any of the residual liquid. Give it a taste and adjust the salt to your liking. Divide amongst bowls and top with a few pieces of burrata, a pinch of crushed red pepper, and some minced basil. 
https://www.acozykitchen.com/one-pot-vodka-pasta/
(This post is sponsored by Macy's Wedding Registry. Thanks for supporting the sponsors that keep A Cozy Kitchen cozy.)
Source:
https://www.acozykitchen.com/one-pot-vodka-pasta/